Terms and Conditions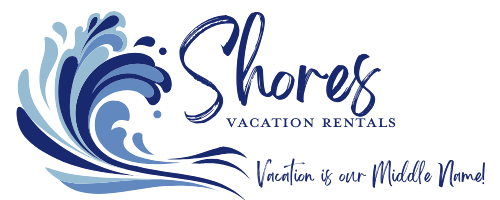 Shores Vacation Rentals - Guest Terms and Conditions
Updated 01/2021
Please read this document thoroughly as you are responsible for all information within.
All costs incurred by Shores due to violations will be charged to the credit card on file.

Reservations
The person or person under whose name the reservation is booked must be 30 years of age. We do not rent to vacationing students or singles under 30 years of age.

As agents, our homeowners authorize us to rent to family groups and approved non-family groups only. A family group is defined as one or more families consisting of immediate and extended family members that vacation together in one home. This means no sororities, fraternities, parties, outings, or young groups, with or without chaperoning. Non-family groups are only permitted with special consideration and approval from Shores Vacation Rentals, and we reserve the right to decline reservations or require a security deposit.

Reservations obtained under false pretense are subject to forfeiture of any and all monies paid, refusal to allow check-in or immediate eviction upon discovery.

Responsibility
The person or persons under whose name the reservation is booked must reside at the property for the duration of the rental. They are responsible for ensuring that they and their visitors abide by all of the rules set forth in this document, in the reservation confirmation, condo rules, and those posted at the property. Failure to do so will result in eviction without refund.

Guest Information Form
Your confirmation email will have a link to the Guest Information Form. This must be complete for each reservation, by both first time and returning guests. Check-in information and access to the property will not be given unless we receive your completed form.

Occupancy
The maximum occupancy listed for the property may not be exceeded. Occupancy is the number of people who stay the night and use the amenities during the day. This is a strict policy and the penalty is immediate eviction without refund. Parties and reunions are not allowed unless authorized by Shores. When in doubt, please ask.

Cancellation / Refund Policy
What if we need to cancel? We strongly urge you to consider purchasing travel insurance to protect yourself in case something comes up and you can't make it.

Please call our office immediately if you are unable to vacation with us for any reason. If you have purchased Vacation Rental Insurance, also call Generali or your provider directly to determine if you have a covered cancellation.

If you did not purchase travel insurance and cancel prior to your arrival date, you will forfeit all payments made unless we are able to re-book the property.

We will always do our best to rebook after a cancellation. If your cancellation is received early enough that we are able to rebook the property, you will receive a refund from Shores Vacation Rentals minus a $250 processing fee, the cost of any un-booked days, and any discounts given in order to rebook the property (if applicable).

If you cancel on or after your scheduled arrival date, you will forfeit all payments made, and no refund will be available. There are no refunds for early departures. Refunds will not be provided for inclement weather, inoperable equipment at the rental property, or for any other circumstances beyond the control of Shores Vacation Rentals.

Insurance
Life is unpredictable. We strongly encourage you to purchase travel insurance through our partner Generali to cover qualifying, non-voluntary trip cancelation, interruption or delay, medical expenses, emergency assistance and more. Unfortunately, we cannot sell insurance to residents of Hawaii, Pennsylvania and New York states. Details are available on our website under Guests / Travel Insurance.

Check-in: 3:00 PM
Unless you have arranged and paid for an early check-in, check-in is at 3:00 PM Eastern time. Neither housekeepers nor housekeeping inspectors will allow early entry for any reason and are to inform Shores of any attempt. This is for the safety of you and our staff.

A few days before your arrival, a check-in email will be sent with property specific information, such as WiFi passwords and check in instructions. We suggest you print the email and bring it with you for reference.

Check-out: Before 10:00 AM
Unless you have arranged and paid for late checkout, all persons and personal items must be out by 10:00 AM Eastern time. This is for the safety of you and our staff. Housekeepers will enter and begin cleaning promptly at 10 AM. There is a $100 per hour fee, one hour minimum, if you or your items are in the property after 10 AM.

Before departing, please wash all dishes or have the last load running in the dishwasher. Clean the grill. Empty the refrigerator, take out the trash and recycling. We will attend to the beds and laundry. It is important to leave the property as you found it with furniture returned to its original location. Secure all windows and doors. If you have keys or garage door openers, please return them to their original location.

In the rare case where a property is left excessively dirty, additional cleaning will be charged at $50 per hour, one hour minimum. If you would like additional housekeeping services during your stay, contact us before your arrival for details and pricing.

Early check-ins / Late check-outs
We try to accommodate early check-in and late check-out when there is no guest turnover and our cleaning schedule allows. Please call us to confirm if that is an option for pricing and availability.

Payments
50% of the reservation total is due at the time of booking. The balance is due 45 days prior to your arrival. You will receive an email reminder a week before hand. You agree that we may charge the credit card on file 45 days before arrival, unless other arrangements have been made.

Changes / Substitution
Shores Vacation Rentals manages privately owned properties. Reservations can not be transferred from one property to another. Shores does reserve the right to substitute comparable properties when necessary. In these rare cases, you will be given the opportunity to either cancel your reservation without penalty or accept the alternate property at its standard price and standard cancellation policy.

Damages / Damage Waiver
Non-refundable damage waiver is required and included on each reservation ensuring coverage for accidental breakage and damage at the property up to $500, if reported before departure. Breakage and damage in excess of $500 will be charged to the credit card on file. Negligence, fire damage, water damage, malicious and negligent destruction and any other damage we deem to be abnormal is not covered by the damage waiver.

Housekeeping
Your rental property will be supplied with: bed linens, bath and kitchen towels, toilet paper, facial tissue, paper towel, hand and dish soaps, coffee filters, salt & pepper, foil, saran wrap, garbage bags, and where applicable: dishwasher soap, laundry soap and dryer sheets. We provide one washcloth and one bath towel per person and two hand towels per bath.

Generally beach towels are not provided at any rental unit, so remember to bring your own.

Linens, bedding and towels are not to be removed from the property for use at the beach or pool, for picnicking or any other use. Use of additional linens and/or towels found at the property may result in additional charges.

Lost Keys, Passes, Openers / Lock Outs
Where applicable, door keys, a garage door opener, a pool key, beach passes and beach tram key will be provided. We charge $25 for each lost house key, $50 for each lost opener, beach pass and pool key and $250 for each lost beach tram key. There is a $50 charge to unlock a property when our office is closed.

TV / Internet
TV use is limited to channels or streaming services available without additional fees. Phones are for local calls only, unless noted otherwise in the property information. Violators will be charged up to $50 in administration fees in addition to any service charges.

Emergencies / Problems and Repairs
Call 911 first for medical, fire and police emergencies. Crucial after hour problems should be reported to our call center (877) 451-0148. The answering service will contact the agent on call who will respond promptly.

Non-emergency problems should be reported to Shores at (269) 637-8770. Leave a voicemail if we don't answer and we will respond in a timely manner. Messages are checked regularly throughout the day and on weekends and holidays. We report cable and internet outages to the provider.

Pets
Pets are not allowed at any time, except at properties specifically noted as dog friendly. No other types of pets are allowed at any of our properties. Violators are subject to eviction without refund and additional cleaning charges, at a minimum of $500.00 and could be substantially higher. Where dogs are permitted, there is a $150.00 fee per dog per reservation. Dogs should be crated within the house when you are not present. You are responsible for all clean up in the yard or indoors if needed. Failure to clean up will result in additional charges.

Smoking
None of our properties allow smoking. If you are staying in a condo, please be aware the condo associations do not permit smoking anywhere on the grounds. Violators are subject to immediate eviction, forfeiture of all monies and additional cleaning charges, at a minimum of $500.00 and could be substantially higher. When allowed, smoke outside, away from the premises or in designated areas. Dispose of your smoking remnants responsibly. Failure to do so will result in an additional cleaning charge.

Fireworks
Fireworks are prohibited at all properties. Violators are subject to eviction without refund.

Lost and Found
Shores is not responsible for items left in the property. We collect found items at our office where they are held for thirty days before donation to a local charity. If you believe you have left something behind, contact us to see if it has been found and arrange its return for the cost of postage.

Right of Entry
Property owners and Shores staff may need to enter the property for the purpose of inspection or maintenance. We will do our best not to disturb you.

Properties Listed For Sale
If the property is for sale, we will allow one real estate showing during your stay and will give you 24 hour notice of the showing date and schedule. Showings are generally within a one hour time window. If we do not speak to you directly, we will leave the scheduled date and time on your voicemail. You can either be at the property during the showing or not, it is up to you. We ask that you tidy up the property beforehand.

The Legal Stuff
The renter acknowledges that Shores of South Haven, property owners, and their agents cannot be held responsible, regardless of fault, for any accident, loss, damage, illness or injury suffered by the renter, members of their party or any other guests which the renter or their party have allowed access to the property, regardless if said loss results, directly or indirectly, from acts of God, danger incident to any body of water, fire, breakdown of machinery, equipment, acts of government or other authorities, delays or cancellations of or changes in itineraries or schedule or from acts of omission on any airline. Furthermore, the renter will release and hold harmless any and all parties involved with the rental, management, and reservations of the property and to release and hold harmless its owners and representatives for any loss or damage to personal property or for any injury, illness and/or death.

We do our best to accurately publish our rental information and pricing, however, errors occasionally happen. We constantly work to maintain and improve the operations at Shores Vacation Rentals to enhance the satisfaction of our renters. We do however have a duty to the owners of the properties we offer. Therefore, we must abide by certain parameters, including authorized pricing, regardless of erroneous discrepancies that may occur. We reserve the right to correct pricing, change dates or cancel reservations due to publication errors.

Thank you for choosing Shores Vacation Rentals! We look forward to seeing you soon.