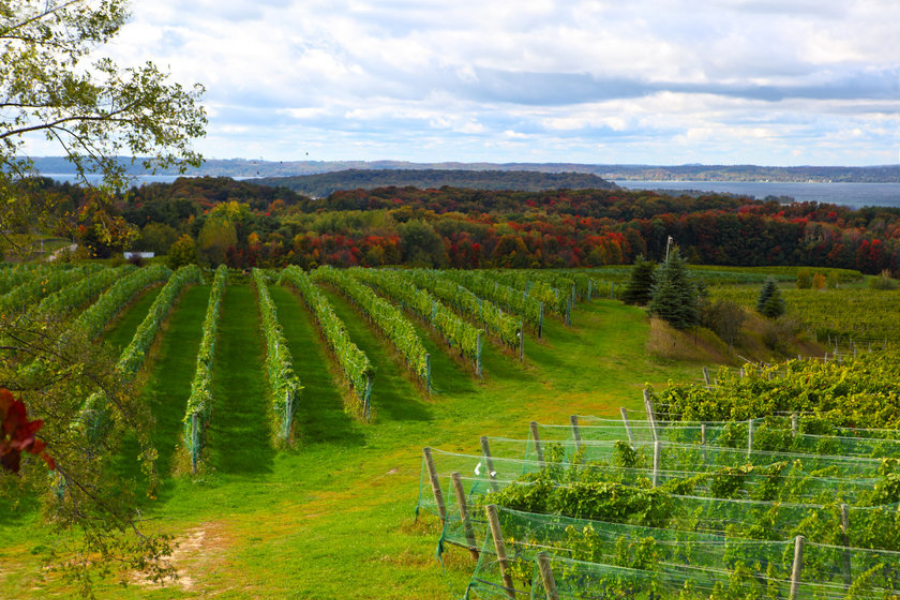 Fall is perhaps the best time to visit the South Haven, Michigan area. The cooler temperatures and bright blue skies of this time of the year set against the spectacular Fall colors make for incredible views! Fall in South Haven is perfect for outdoor enthusiasts...kayaking, hiking, biking, or just strolling through our downtown area. No matter what you like to do, South Haven is the perfect Fall destination!
Fall Weather in South Haven
Fall days in South Haven are comfortable with highs in the 60's and cooler days int he 50's. Once the sun goes down thoughm the nights can be a bit chilly with temperatures falling into the 40's. After the warmth of the summer this is a refreshing change and helps the foliage turn the colors of a rainbow!

Most Popular Things To Do

Biking & Hiking | Kayaking | Fishing | Visit An Orchard | Tour a Winery

Whether you choose to bike or hike the trails in South Haven, you will not be disappointed in the sights & sounds you will encounter. The South Haven area boasts over 48 miles of hiking & biking trails. In fact, in 2019 the area was excited to receive the designation as a Pure Michigan Trail Town by the Michigan DNR and Travel Michigan. The variety of scenery offered varies from beach to forest, but all of them are well maintained and provide the perfect destination for taking in the Fall colors.
Take in the views from the water when you go kayaking along the Black River or even out on Lake Michigan! There are a number of places to launch, but perhaps our favorite is from Black River Park & Boat Launch. Here you can paddle up river along the Bangor/South Haven Heritage Trail, or head towards the waters of Lake Michigan. Whereever you choose to launch from, you will always find a new adventure! Fall is one of the more picturesque times of year to kayak in South Haven as the cooler daytime temperatures and beauty of the leaves makes it memorable!
On a boat, or from a peir, fishing in South Haven is always fun! There are a number of local charters that can take you out on to Lake Michigan where you can catch salmon, perch, trout, or steelhead. Or you can create you own fishing adventure by fishing from one of the peirs along the Black River. A number of the South Haven vacation homes offered by Shores Vacation Rentals offer close proximity to fishing and have access to a BBQ for grilling up your catch!
It's Fall in South Haven which nmeans the apples are ready for picking! That is not all you will be able to do when you visit an orchard in our area as so many of them offer a number of activites, adventures and baked goods! Our favorite place to visit in the Fall has to be Crane's Pie Pantry...so much to do and the apple cider donuts alone make the trip worthwhile! You will definitely want to take a dozeon (or more) back home with you!
Not many realize that wine making is abound in South Haven and the surrounding area. And Fall is the perfect time to venture out and learn more about the art of making wine...and sampling the varieties you will discover. You can choose to visit just one winery, or spend a day follwing the Lake Michigan Shore Wine Trail onyour own, Some visitors tot he area will actually arrange for a guided tour by either bike or coach. However you choose to take in our "wine country" you will not be disappointed and can bet you will be taking a few bottle back home with you!
---
Shores Vacation Rentals is proud to offer a wide variety of South Haven vacation homes for rent. All of the rentals managed by Shores Vacation Rentals are professionally cleaned and have fully-equipped kitchens, spacious living areas both indoors and out, as well as free wireless internet access! Staying in a vacation rental is the best way to visit South Haven and the surrounding area. They allow you to get away from it all with the comforts of a home!
SEARCH FOR YOUR SOUTH HAVEN VACATION HOME NOW